Fall Leadership LAUNCH Academy
---
"Perfection is what you're striving for, but perfection is an impossibility. However, striving for perfection is not an impossibility. Do the best you can under the conditions that exist. That is what counts." -John Wooden
South Dakota HOSA LAUNCH plans to engage local chapter officers and others through a dynamic day of leadership activities, accessibility to professionals, collaboration with others, and informative discussions relating to successful HOSA chapters. We aim to get your career "LAUNCHED" through this one day training.
This year, SD HOSA is offering two, one-day academies on the following campuses: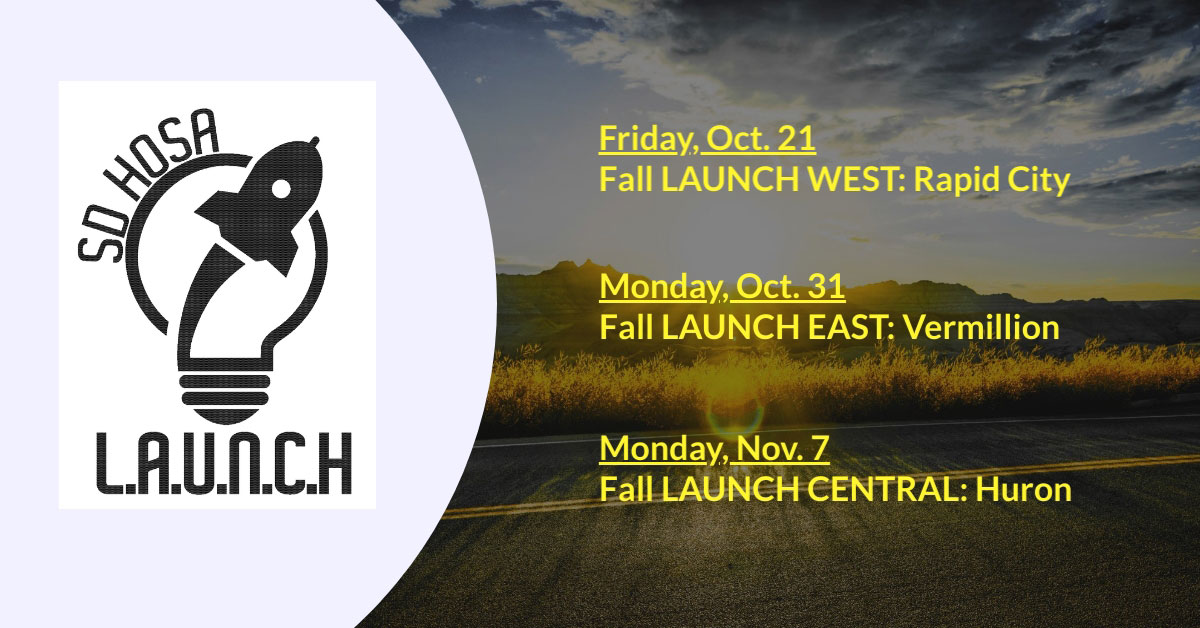 L- Leadership Development
In this session, students engage in activities involving leadership styles, personality types, and public speaking, among others.

A- Activity Driven
In this session, advisors will discuss meeting ideas and projects HOSA chapters may be interested in diving in to.

U- Unwavering Confidence
In this session, students will build confidence performing HOSA skill-based activities.

N- Networking Synapse
In this session, students will tour campus and establish familiarity with certain academic health science pathways.

C- Collaboration Station
In this session, students will participate in collective problem-solving and team building exercises.

H- Helpful Hints
In this session, advisors will gain insight into competitive event preparation, what is new for events in 2023, and how to go for gold in March!
Snapshot
Agenda (Click Here)
8:00am: Welcome to the Show!
8:30am: Opening and Welcome
8:45am: Leadership Training (Students)
8:45am: Advisors 411 with Brock
11:30am: Lunch
12:15pm:Breakouts/Skills
3:45pm: Buh-bye
Academy Registration Fee
$15
Advertise the Academy in your school
Register interested members via HOSA's online system
Collect $20 conference registration
Send conference registration to SD HOSA State office